Discover more from 285 South
A news publication centering the stories and perspectives of immigrant and refugee communities in metro Atlanta - the heart of the New South.
Over 3,000 subscribers
Atlanta native describes escape from Khartoum
U.S. Embassy "left us to fend for ourselves" said Sudanese-American Aamer Shengeb
When Atlanta native Aamer Shengeb, his wife, and 1-year-old son arrived in Khartoum, the capital of Sudan on April 14th, they had no idea what was ahead of them. "It was fine that one day," he said.
He had booked the trip to the city just a few days earlier because of a last minute request from the U.S. government. The family was asked to come to an appointment at the U.S. Embassy on the 15th to provide paperwork for a green card application for his wife, who is a Sudanese citizen. 
Thanks for reading 285 South! Subscribe for free to receive new posts and support my work.
But things didn't go as planned. "On Saturday morning we heard shots," he said.
Instead of going in for the appointment, Aamer took all the actions he thought a U.S. citizen was supposed to take in a high risk situation. "I sent emails to them letting them know [we were there]  and they asked me for information about me and my family in order to put them in the system," he said. He then signed himself up for the Smart Traveller Enrollment Program (STEP).  He started to receive regular updates on the situation. "They informed us every time that they wouldn't be able to do an evacuation because right now its not safe."
Aamer is one of an estimated 16,000 Americans that were trapped in Sudan after fighting broke out between Sudan's armed forces and the paramilitary group the Rapid Support Forces in Khartoum. Though multiple ceasefires have been announced, the fighting has continued, leaving more than 400 dead, and injuring upwards of 3,000 people. And tens of thousands of people have fled or are fleeing for their lives – including the Shengeb family. 
The situation at his in-law's house where Aamer and his family were staying didn't feel safe. The power cut off for multiple days in a row, water was in short supply, and the sound of the violence filled up the walls of the home. "It was constant shooting, constant shooting, constant explosions," he said. 
His grandparents' house, which was a  two minute drive away, was impacted by a missile that hit the neighbor's house. "There was leftover shrapnel that came into their house and [it] made a lot of damage on their house." They moved into his in law's house after that.  "We were about 10 people in that house…it was a struggle."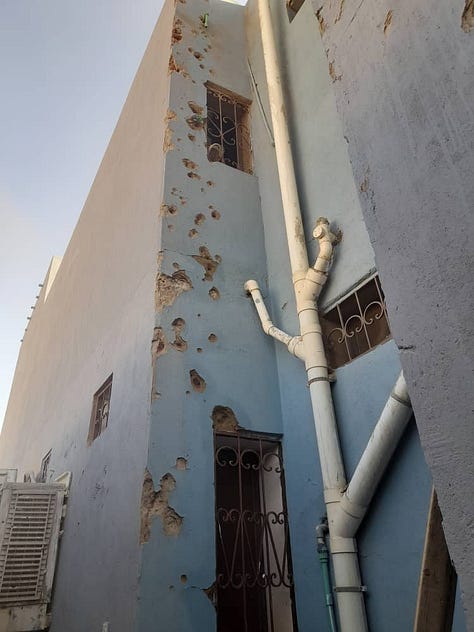 That struggle has left family members here in Atlanta scared and worried for their loved ones in Sudan, and desperate to help. 
Samah Abdelhamid moved to Atlanta in 2003, and works at Children's Healthcare of Atlanta. Samah, along with Aamer's parents and brothers, are among the estimated 2,000 Sudanese who live in Georgia.
She's been struggling to figure out how she can help her family members in Sudan. "It's overwhelming…it's a sense that you have very little power…its both humbling and extremely frustrating," she said on Wednesday, after speaking to one of her cousins in Khartoum. 
"We were talking about options - how they can escape the capital - how to find buses to the countryside. Buses are either completely booked or booked in the first 30 or 40 minutes." 
Members of the diaspora have been coordinating on WhatsApp, trying to send funds back home, she said, hoping it will help families purchase bus tickets to get out. But it hasn't been easy. Western Union and similar cash transfer setups are not operational in Khartoum right now, and most banks in the U.S. don't allow direct cash transfers to Sudanese banks, she said, so she's had to find a workaround through third countries.
As for Aamer - he kept trying to find a way out through the US Embassy. He would get emails from the Embassy, but because the internet was spotty at best, he wasn't always seeing the messages in time. One morning, he said an email was sent at 4:00am about two convoys - one organized by the Turkish Embassy and the other by the UAE Embassy - they were evacuating people, and would accept Americans. The convoys were leaving at 6:30 and 7:00am. "Because of the poor connection, I couldn't even see this message until 8:00am. I was shocked that I didn't receive any phone calls…no one tried to coordinate better. Only by emails. By mass emails."
285 South has reached out to the U.S. Embassy in Sudan for comment, but hasn't yet received a response.

Aamer hustled to find another way out.  He found out about a bus that was making a 9-hour journey to Kassala, a region in eastern Sudan.  The price of the bus tickets had been increasing exponentially, but luckily he had the cash to pay.  The bus - he said - was packed. "They charged people half price to sit in the aisles." 
The journey took three hours longer than expected - in part because of unsafe roads and two flat tires. Along the way, he saw at least three or four buses on the side of the road that had broken down, and whose passengers were trying to stop buses so they could jump on. 
On Wednesday night, Aamer and his family made it to Kassala. "We're going to stay here for a day or two for rest.  Because my son is very tired, extremely tired," he said. 
Aamer, who grew up in the Stone Mountain area and is a graduate of Georgia State University, but now lives in Saudi Arabia, is still in disbelief about the lack of help he received from the U.S. government. The U.S Embassy evacuated around 70 of its staff from Khartoum on April 22nd. "One thing that was shocking is that they extracted the U.S. embassy workers, diplomats, and their family members…I actually even heard the helicopters during the extraction…this was very sad. They left us to fend for ourselves." 
On Saturday morning, he and his family plan to catch a bus to Port Sudan, where governments have been connecting with their citizens to usher them home. "After we go to Port Sudan, we are going to try to make our way by boat or by plane whatever it may be." 
Thanks for reading 285 South! Subscribe for free to receive new posts and support my work.