Discover more from 285 South
A news publication centering the stories and perspectives of immigrant and refugee communities in metro Atlanta - the heart of the New South.
Over 3,000 subscribers
285 South's February Calendar
Call for volunteers, New Americans Ceremony, and Valentines Day.
This past Sunday my 8 year-old-son looked up at me, crumbs gathered around his mouth from the toast he'd just eaten, and grew quiet. "Is it February yet?" he asked, eyes shimmering with a mix of hope and desperation.
"Not yet," I told him, breaking the news carefully. "Wednesday."
It does feel like January went on forever. But later that morning I went for a jog under the gray skies and saw these!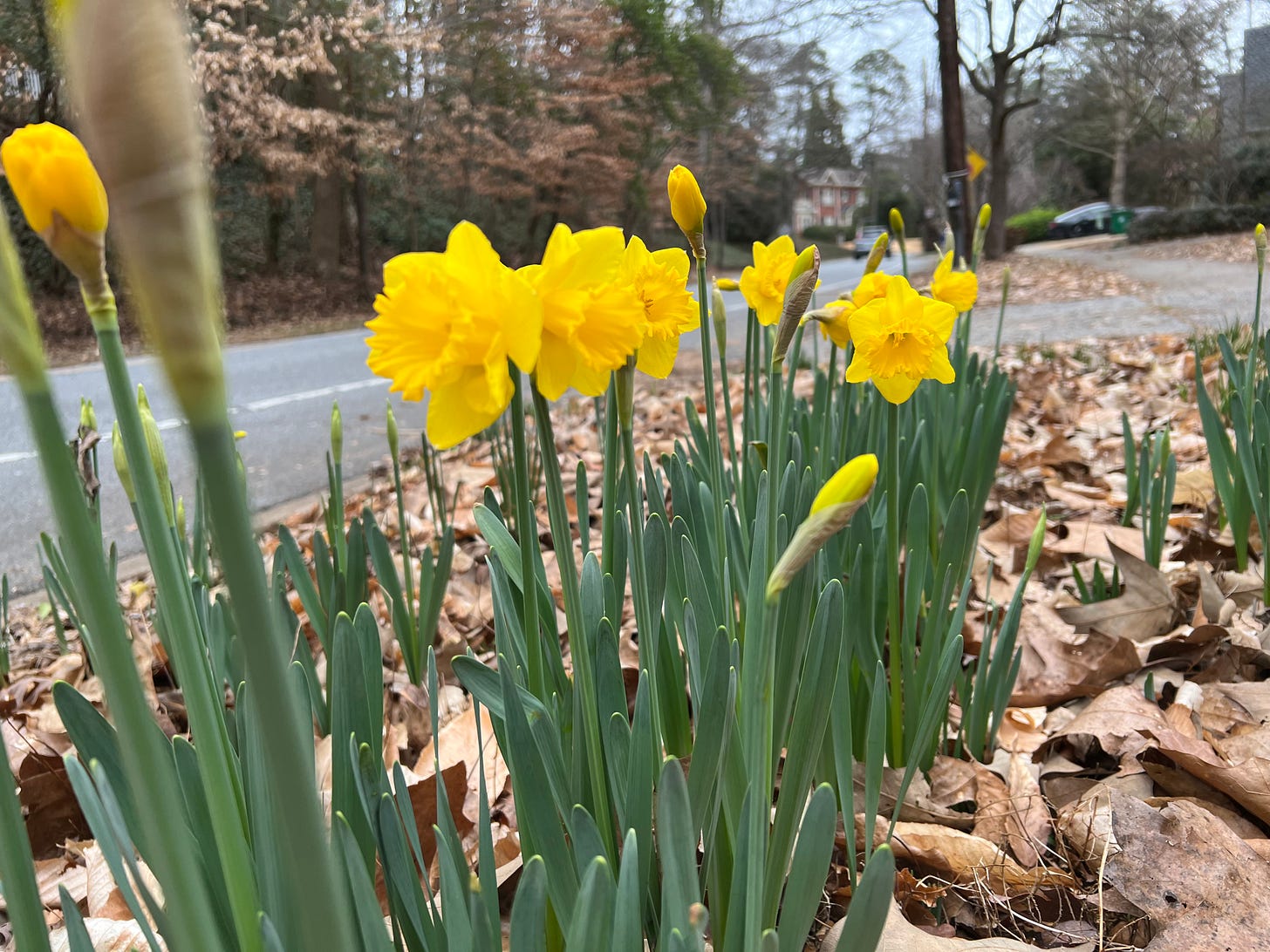 It's Wednesday, February is finally here, and spring doesn't feel so far away anymore.
Before we get into events, a quick plug: 285 South teamed up with the Atlanta Civic Circle for the series "Representing Georgia," where we spoke to some of Georgia's new state lawmakers who also happen to be first and second generation immigrants. For the first in the series, I spoke to Nigerian-American lawmaker Solomon Abesanya from East Cobb.
Okay, a mix of things happening this month. If I left anything off (which I'm sure I did) - please don't hesitate to leave a comment on Substack or respond to this email. You can also connect with me on Instagram, Twitter, or Facebook.
Thursday, February 2nd
Building "Community" in Super Diverse Cities: Georgia State's Prevention Research Center is hosting a virtual brown bag lunch featuring Omar Shekhey, Executive Director of the Somali American Community Center; Doris Mukangu, Founder and CEO of the Amain Women Center, and Luay Sami, Executive Director of the Clarkston Community Center. The speakers will share their lessons learned from their work to build community super-diverse cities (ie Atlanta!). 11am-12pm, virtual. More info here, and registration link here.
Monday, February 6th
English classes in Gwinnett: If you or someone you know is interested in taking English classes, Corners Outreach and The Latin American Association are enrolling students for evening classes that begin on February 6th. 5139 Jimmy Carter Blvd, Suite 203, Norcross. More info here and register here.
Thursday, February 9th
Panel: Empowering Latinx Georgia in 2022 and Beyond: Emory University hosts a discussion on the growing impact of Latino voters in Georgia, featuring representatives from the Georgia Association of Latino Elected Officials, Power Latinx, and the Latino Community Fund of Georgia will be present. 6-8pm, Convocation Hall 210, Emory University, 505 North Kilgo Circle, Atlanta, 30307. More info here, and registration link here.
Saturday, February 11th
Palestinian cooking workshop: Learn how to make Musakhan - "Sumac chicken with onions and flatbread" - from Palestinian chef Hadia Ibrahim. It's one of several cooking classes the Alif Institute is offering this Spring. 2pm - 4:30. The Alif Institute, 3288 Marjan Dr, Atlanta, GA 30340. More info here.
Sunday, February 12th
Valentines Day at Plaza Fiesta: Come out to celebrate Dia de San Valentin at Plaza Fiesta where there will music, contests, and prizes. I went last year and was blown away by the live mariachi band. I also came home with a gift - mini donut shaped chocolates - that my kids gobbled up within minutes. 4166 Buford HWY NE, Atlanta, GA 30345. Time TBD. More info here.
Tuesday, February 14th
New Americans Celebration: The Coalition of Refugee Service Agencies (CRSA) is hosting its tenth annual New Americans Celebration at the Georgia State Capitol. Organizers are encouraging those interested to join a day of education and outreach with state lawmakers, to support the state's immigrant and refugee communities. Training starts at 8am at Immaculate Conception at 48 Martin Luther King Dr. SW, Atlanta, GA 30303. Outreach to lawmakers at the Capitol Building starts at 9am. More info here.
Sunday, February 19th
Bebe's Kitchen, a social enterprise that works with immigrant and refugee chefs, is hosting a South Indian cooking class. Learn how to make dosa, sambhar, peanut chutney, and more from chef Babita Verma. $90 per person. 1:30-4:30, Decatur Recreation Center, Sycamore Street, Decatur, GA, 30030. More info here.
Saturday, February 25th
Community Health Fair: Free health screenings, consultations, and vaccinations will be offered at this community health event, sponsored by ICNA Relief, Refugee Women's Network, Embrace Refugee Birth Support, the IRC-Atlanta, Dekalb County, and the Center for Victims and Torture, among others. 11:30am - 3:30pm, Masjid Al-Momineen, 837 N Indian Creek Dr, Clarkston, GA 30021. More info here.
Tuesday, February 28th
Asian American Advocacy Day: Asian Americans Advancing Justice - Atlanta is inviting community members to gather and meet for a day of advocacy with state policymakers about issues impacting their communities. 7:30am to 11am, Atlanta City Hall - Atrium, 55 Trinity Ave SW, Atlanta, GA 30303. Register here.
---
Volunteering * Opportunities * Calls to Action
New American Pathways, an immigrant and refugee supporting nonprofit, is recruiting volunteers to help with everything from donation drives to welcoming new families. Individuals or organizations interested should contact Baindu Akinrotiba at b.akinrotiba@newamericanpathways.org. More info here.
The Georgia Muslim Voter Project is hiring part-time canvassers. Applicants must be at least 18 years old and available to work 15-20 hours a week. More info here.
Feedback needed on Gwinnett transit: Gwinnett County is hosting in person and virtual forums throughout the month to get feedback on Ride Gwinnett, the county's transit service. More info on when and where the forums are here.
Thanks for reading 285 South! Subscribe for free to receive new posts and support my work.